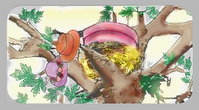 (1)
Cottage Interior: Daytime; Rana and Kyra inside the cottage, upon hearing a clamorous yet muffled peeping overhead, we look up to see a beautiful hatbox sitting in a nest with decorative hats hanging on various branches.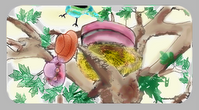 (2)
The twitter continued and was increased with the arrival of a tiny blue-green birdie flying through the open space in the roof. We noticed the hatbox lid shifting a little as though something were inside.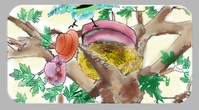 (3)
The tweeting grew more active as the little bird began to land and we swung around to get a better look at what he was after.
(4)
He landed near the hatbox and we notice there were more hats hanging nearby, along with a miniature hand-mirror. The box lid still fluttered and rocked.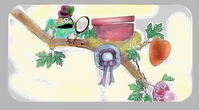 (5)
Mr. Blue-Green picked up the mirror to admire himself in his newest purple silk Tophat without noticing the box lid rumbling.
(6)
He delighted in seeing how the shiny green leaf he's just added to the satin sash matched his feathers handsomely, as he flitted around in excitement.
(7)
All at once, the hatbox burst open, just as Mrs. Orange and Brown popped up from inside chirping loudly in exasperation Mr. B-G's annoying knack for removing the mirror from where she had obviously left it for her use. She had given Mr. B-G quite a start and the glass tumbled right down.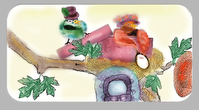 (8)
Mrs. O&B took hold of it with the tips of her wings just as the mirror was about to fall out of the nest.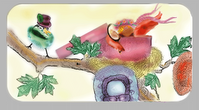 (9)
Her happy chirping let everyone know she was pleased with the chapeau she had selected from her collection inside the box.
(10)
Little B-G felt quite put out at losing the chance to look at the glass and protested the matter with his noisy chirrups.
I was able to complete the now 10 panel storyboard for this sequence. (I hope I made the images low res enough so as not to bog down viewing the page, please let me know.) Again, it was very valuable for planning the animation to create this storyboard. But, in future, I think I should try doing simpler line art drawings by hand like the terrific
floating ones
Sven has been doing to develop one of his film exercises. I like the way his drawings look as finished art even though I think for Sven it was more about exploring the action more freely and quickly. Making this storyboard in Photoshop took too long to be practical for future scenes, I'll see. I have to go pack my eyes and mouseing arm in ice for the night.
At Sven's suggestion, I also downloaded a trial of Macromedia Flash (Basic 8) along with print outs of relevant instruction for creating 2D animation with it to see how making the storyboard into a little 2D clip would work. Let's find out.